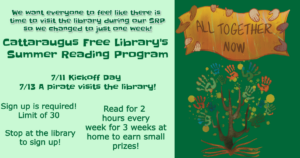 We have continued to add new books and DVDs to our circulation!
We try to make sure new books and movies are trickled in at least once a week. Check out our Facebook page for pictures of new additions!
As a reminder we continue to have our year round perpetual book sale. We have three areas full of books for just $1.00 a bag!
Our hours have changed for the summer. We will be closed on Saturdays until 9/9/23. On that date 10am -1pm hours will resume.
Monday : 11am-4pm
Tuesday : 11am-6pm
Wednesday : 11am-4pm
Thursday : 11am – 6pm
Friday : 11am – 4pm
There's still time to sign up for our Summer Reading Program! We're going to host six days of fun events for young readers! Stop by the library before 7/07/23 to reserve a spot!
Have a good summer!